Why optimal blood use is important
The safety of hospital treatment and the effectiveness of care are major concerns in healthcare systems. Blood transfusion has been the subject of legal proceedings and investigations in Canada, England, France, Ireland and other countries. Hospitals should be in a position to show that their practice of blood transfusion is safe, clinically effective and efficient. Specific reasons for this are as follows.
Accountability
Blood is a human tissue and is a precious and scarce resource. Many countries have difficulties matching supply with demand. The supply of blood components in the EU depends substantially on the support of voluntary donors. Both the ageing population in many EU countries and the effect of new precautionary measures to safeguard blood recipients have increased the problems of maintaining a sufficient supply of blood. Transfusion services promote donation as an essential contribution to the care of patients, so both hospitals and blood collection services have an obligation to demonstrate to blood donors that each gift of human tissue is carefully, wisely and effectively used and that it can be fully accounted for. Patients need assurance that blood is safe, available and used only when required.
Compliance with EU legislation
EU Blood Directives place a legal responsibility on hospital managements to introduce a quality system to important parts of the transfusion chain. Blood establishments are required, to maintain quality management systems and to undergo regular inspection.
Hospital blood banks must submit an annual compliance form and may be inspected on the basis of this return. The reporting of adverse events is a legal requirement in the EU as is the ability to trace every blood component from its donor to the patient who receives it.
Accreditation
Institutions that seek accreditation by bodies such as the Joint Commission or the Care Quality Commission in the UK will need to show evidence of a quality management system.
R42 is downloadable from files at the end of the page.
www.nhshealthquality.org
Legal and media pressures
Legal actions, public inquiries, investigations or adverse media attention stimulated by transfusion-related harm to patients are likely to gain serious management attention (and the application of resources) to avoid future problems. Experience in several countries has shown that adverse events can cause medico-legal, publicity and reputational risks for a hospital and sometimes for the wider healthcare system.
Cost
The cost of providing blood components has increased as a result of new safety requirements and other technical developments. As an example in France, the overall cost of blood components increased by 37% between 1998 and 2008. The cost per inhabitant of France was €6.8 in 1999 and €8.8 in 2008.
Summary of the manual
Details of the clinical transfusion process vary among the member states of the EU, but there are essential steps that are common to most. These are shown in Figure 1.1, and more detail is shown in the purpose section of this site (figure 2.1).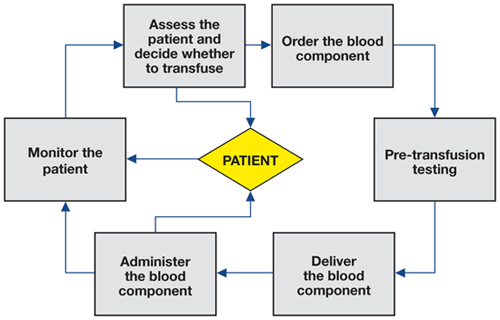 Quality improvement: analysis and prevention of errors
The following figures (1.2 to 1.7) share the same layout and show, for each of the main steps in the clinical transfusion process, examples of errors or failures in the process, the possible consequences for the patient, some underlying reasons for failures or errors, and finally some key points about prevention and avoidance. The subject matter of these tables is covered in more detail in the various sections throughout the site.
Figure 1.2 Analysis and prevention of errors in clinical transfusion decisions
 
Steps in the process
What can go wrong
Consequences
for the patient
Why it goes wrong
Prevention
and avoidance

Assess clinical condition
Decide if transfusion indicated, which component and number of units
Discuss with patient
Obtain consent
Record indication for transfusion and the discussion with patient

Wrong clinical decision
Unnecessary transfusion
Failure to give a necessary transfusion
Wrong component given
Wrong dose given
Patient not informed
Decision not recorded
Patient case record lost

Transfusion associated circulatory overload
Avoidable exposure to infection or immunological risk
Risk of myocardial ischemia
Patient makes complaint
No record available to defend medicolegal challenge

Lack of transfusion knowledge or failure to follow guidelines
Inadequate clinical assessment
Unaware of importance of information and consent
No patient information available
Information given at wrong time
Patient couldn't read or understand information

Clinical guidelines are available
Compliance with guidelines is audited
Prescriber has a thorough knowledge of the indications for blood components and the knowledge to answer patient's questions
Written patient information is provided, at right time and is legible and understandable
Consent should be recorded
Compliance with procedures is audited
Errors, events and reactions are investigated
Procedures improved by lessons learned
Figure 1.3 Analysis and prevention of errors in ordering blood components
 
Steps in the process
What can go wrong
Consequences
for the patient
Why it goes wrong
Prevention
and avoidance

Identify patient correctly
Decide which component is needed and the quantity
Complete blood request form or electronic order
Take pre-transfusion sample
Send blood sample and request to hospital blood bank
If required, initiate major haemorrhage procedure (MHP)

Pretransfusion sample taken from wrong patient
Failure to communicate transfusion requirements
Incorrect blood group in patient's record
Inappropiate dose/volume
Patient receives blood intended for another person
Failure to recognise a major haemorrhage
Major haemorrhage procedure not activated

Immunosuppressed patient put at risk of graft versus host disease
Delayed haemolytic transfusion reaction
Young female sensitised to RhD
Patient transfused with wrong component or quantity
Fatal ABO incompatibility reaction
Death or serious complications due to delayed transfusion

Inadequate information on form
Request form completed incorrectly
Incorrect details on sample tube
Correct patient, but sample tube wrongly labelled
Sample taken from wrong patient
Sample transport inappropriate for situation
Ignorance of major harmorrhage procedure (MHP)
No MHP available

Patient identification policy in place and observed
Minimum data set for patient ID in place and observed
Prescriber knows procedure for pretransfusion sample and blood request
Prescriber knows the indications for particular type of component (e.g. irradiated), establishes patient's requirement and orders correctly
Clinical laboratory and transport staff are familiar with and trained in major haemorrhage protocol
MHP is practised periodically ("fire drill")
Compliance with procedures is audited
Errors, events and reactions are investigated
Procedures improved by lessons learned
Figure 1.4 Analysis and prevention of errors in pretransfusion testing
 
Steps in the process
What can go wrong
Consequences
for the patient
Why it goes wrong
Prevention
and avoidance

Note urgency of request.
If necessary, confirm with requesting clinician
Select approved procedure that is suitable for degree of urgency
When request is received check (control) patient sample and request for consistency and completeness of patient ID data
Note any specific requirements (e.g. irradiated component)
Determine patient's ABO and RhD type. Screen patient's serum for red cell alloantibodies
Check if this data is consistent with any previous laboratory records for the patient
Select suitable units
Perform compatibility test (crossmatch)
Label, record and dispatch selected units

Urgency misunderstood
Inappropriate procedure selected
Patient sample and request not checked for consistency and completeness
Verbal correction of details accepted
Requesting clinician does not specify
Blood bank staff do not register the requirement
Blood bank records not checked
Error in testing procedure or recording of results
Failure to check if previous record exists or to find record
Failure to select appropriate units (e.g. irradiated)
Error in testing procedure or recording of results
Incorrect labelling
Dispatch to wrong destination. Inappropriate transport method

Delayed transfusion: risk of exsanguination
Risk of incompatible transfusion due to mistaken identification
Delayed transfusion
RhD sensitisation of Rh O negative recipient
Delayed haemolytic reaction due to missed alloantibody
Risk of graft versus host disease

Failure of communication
Blood bank reluctance to issue uncrossmatched red cells
Clinical unit reluctant to transfuse uncrossmatched red cells
Staff failure to comply with SOP
Poor training
No SOP
Failure by requesting clinical staff
Defective or lost patient records
Defective reagents
Defective equipment
Inadequate records system in blood bank
Suitable units not available

Major haemorrhage procedure should specify how urgent requests are communicated
Blood bank should insist on correct identification and a fresh sample if necessary
Training for all staff concerned
Internal and External Quality control of blood bank performance
Install effective paper or computerised system staff training
Maintain appropriate stock in blood bank
Figure 1.5 Analysis and prevention of errors in delivering blood to the clinical area
 
Steps in the process
What can go wrong
Consequences
for the patient
Why it goes wrong
Prevention
and avoidance

Pick up blood component from storage site
Deliver blood component promptly to clinical area
Blood component received in clinical area
Store correctly until transfused

Wrong unit selected
One or more patients receive an incorrect blood component
Delay in supplying blood
Blood delivered to wrong location
Blood discarded because of incorrect storage
Wrong storage e.g. placed in freezer or left on heater

Fatal or serious haemolytic transfusion reaction
Delayed haemolytic transfusion
Uncorrected severe anaemia
Increased risk of transfusion to wrong person
Blood units wasted
Transfusion reaction due to contaminated or thermally-damaged blood

Written patient details not used to select blood unit from storage
Delivered to wrong location
Clinic staff unaware that blood delivered
Blood component damaged by incorrect temperature storage

Take written patient ID details when collecting blood units
Staff responsible for collecting blood are trained in correct procedures
Standard procedures are documented
Compliance with procedures are audited
Errors, events and reactions are investigated
Procedures improved by lessons learned
Figure 1.6 Analysis and prevention of errors in administering (transfusing) blood
 
Steps in the process
What can go wrong
Consequences
for the patient
Why it goes wrong
Prevention
and avoidance

Check patient identity details
Check written prescription
Ensure IV line is in order
Take base line observations
Inspect condition of unit
Check expiry date
Check that patient ID details on identification band and blood component match
Check that ABO and RhD group on the patient ID label and blood component label match
Start transfusion at flow rate instructed

Transfusion delayed
Contaminated pack not detected
Outdated pack transfused
Patient receives incorrect blood component
Component transfused too quickly
Transfusion details not documented

Transfusion-associated sepsis
Death due to transfusion of contaminated unit
Morbidity due to transfusion of partially haemolysed unit (past its expiry date)
Death due to ABO incompatibility reaction
Volume overload (TACO)
Unit not traceable

Pack not inspected
Discoloration or change in component not noticed
Expired pack not identified
Check of patient and unit not performed
Instructions for infusion not clear or not followed
Failure to adhere to standard procedure

Patient identification policy in place and observed: effective "bedside" check
Minimum data set for patient ID in place and observed
Staff responsible for administering blood transfusions trained in procedure
Standard procedures are documented
Compliance with procedures are audited
Errors, events and reactions are investigated
Procedures improved by lessons learned
Computerised support system
Figure 1.7 Analysis and prevention of errors in monitoring the transfused patient
 
Steps in the process
What can go wrong
Consequences
for the patient
Why it goes wrong
Prevention
and avoidance

Observe patient's condition and vital signs
Recognise and respond appropriately to adverse event
Record outcome of transfusion
Assess need for further transfusion

Adverse reaction not detected
Adverse reation not managed correctly
Delay in obtaining medical assistance
Delay in assessing continued transfusion requirement

Avoidable harm to patient
Delayed response to transfusion reaction
Major morbidity or death due to transfusion event
Incomplete follow-up or investigation
Records inadequate should there be a complaint or legal challenge

Patient not monitored
Adverse reaction not recognised
Adverse reaction not responded to appropriately
Clinical help not called for
Clinician called fails to respond
Clinician does not treat the patient's reaction correctly

Doctors and nurses responsible for transfused patients are trained in management of adverse reactions
Clinical guidelines for management of adverse reactions are available and are used
Adverse reactions are investigated
Procedures improved by lessons learned